Learn to Access a State of Active Calm
The emWave® Pro Plus is a scientifically validated heart-rate monitoring system that facilitates learning techniques to create an optimal state in which the heart, mind and emotions are operating in-sync and balanced. This is achieved through a patented process which displays heart rhythm patterns in real time showing you when you are in this high performance state. We call this coherence.
The emWave Pro Plus helps you achieve coherence and alignment through simple-to-learn exercises and a rich graphical interface. Using a pulse sensor plugged into your USB port, emWave Pro collects pulse data and translates coherence information into user-friendly graphics displayed on your computer screen. Through coherence techniques, interactive exercises and game play, emWave Pro helps you bring your heart and mind into a coherent state, building resilience, increasing energy, and promoting focus, mental clarity and emotional balance.

The Tools for Success
Real-Time Heart Rate Variability Monitor
Four challenge levels to help you raise your baseline coherence levels
Coherence Coach® tutorial for learning and applying the Quick Coherence® technique
Interactive Games that help you transform stress into creative energy
Emotion Visualizer® provides stunning colorful images which vary according to your emotional state and coherence level
My Inspiration lets you create a montage of pictures and add your favorite music for practicing coherence
Data storage showing coherence levels for session and history review
emWave Pro Plus comes with all emWave Pro Multi-User features plus 2 HRV Assessments
emWave Pro Plus Exclusive
Edit interbeat interval data to eliminate ectopic beats or other sources of artifacts prior to HRV calculation and reporting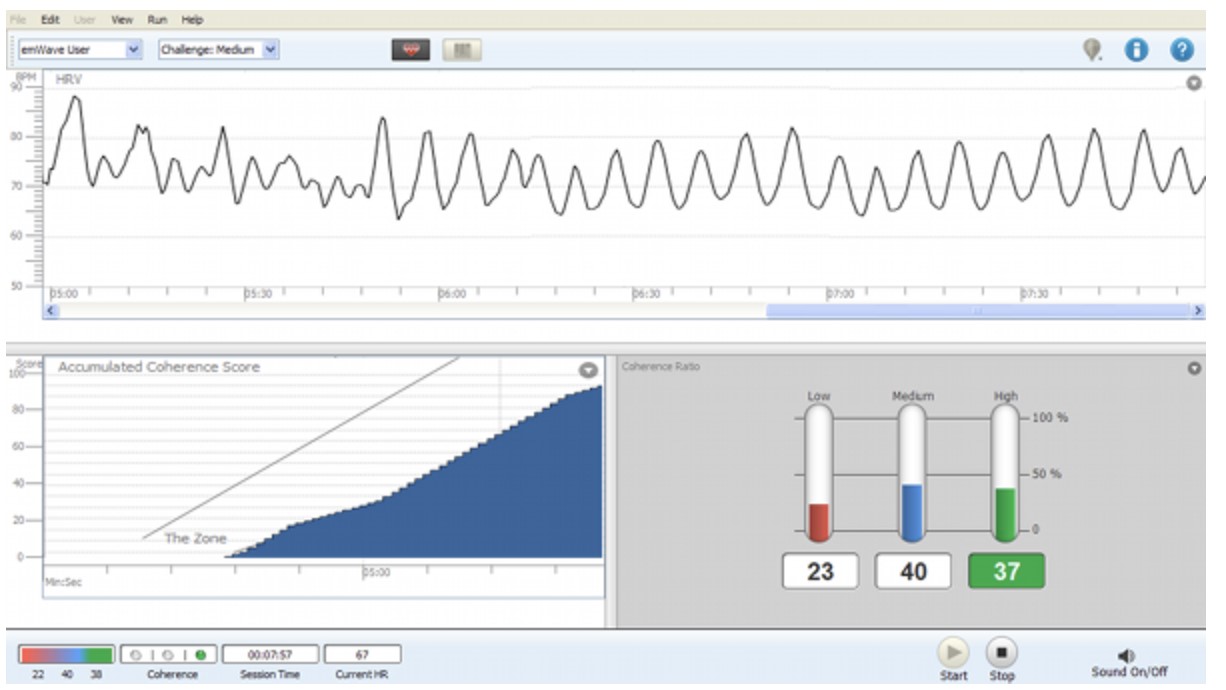 Additional Educational Materials Are Now Included in Each emWave Pro Package
HeartMath Brain Fitness Program eBook
Solutions for Better Sleep eBook
Stopping Emotional Eating eBook
HeartMath Meditation Assistant eBook
3 additional eBooks for Health Professionals

Revitalize and Rejuvenate
Quickly re-balance mind, body and emotions as you reduce stress
Build resilience through improved health, stamina and well-being
Avoid burnout in chaotic and changing environments
Maximize creativity and innovation
Boost performance and increase mental clarity and memory
Be less reactive, think more clearly, make better decisions- especially under pressure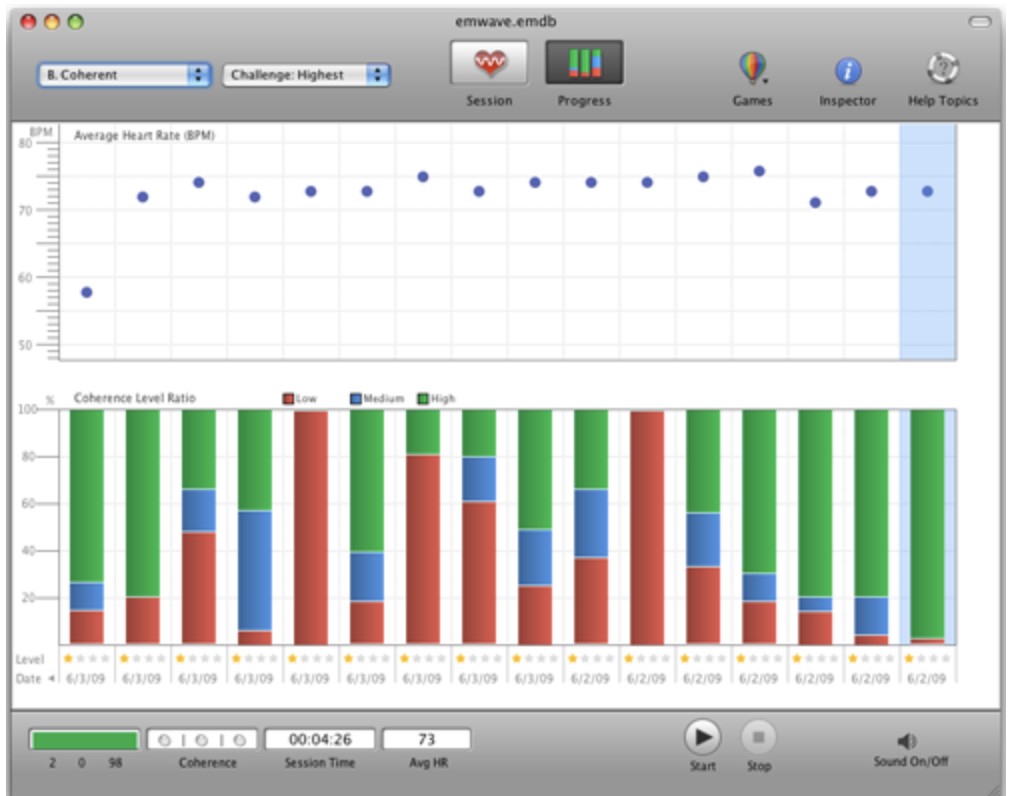 Included:
Software for Mac and Windows operating systems
USB module with pulse sensor that attaches to your ear
Multiple views to watch your heart rhythms change as you move into a state of higher performance
Interactive games to build and sustain coherence
Data storage showing coherence levels for session and history review
Four challenge levels to help you raise your baseline coherence levels
Coherence Coach tutorial
emWave Pro Plus Assessments
​emWave® Pro Plus includes two heart rate variability (HRV) assessments. These assessments can be used in a wide range of applications such as quantifying HRV levels in relationship to autonomic capacity, determining changes in HRV or coherence levels in research studies or interventions, and documenting physiological baseline shifts over time
1-Minute HRV Deep Breathing Assessment
Challenges the autonomic nervous system via a guided 1-minute paced deep breathing protocol with a visual breath pacer to determine the maximum amount of vagally mediated (parasympathetic) HRV the clients autonomic nervous system produces. Results of the standardized HRV measures are compared to age-related reference ranges and a report can be printed and saved. HRV collected using this protocol has a good correlation to the gold standard 24-hour assessment of HRV making it ideal for assessing how much overall HRV a person has.
HRV Assessment
HRV assessment provides an analysis of heart rate variability with the most common standardized measures calculated from a user selectable time range between 2-minutes and 99-minutes.
Online and Personal Customer Care:
Free weekly training calls for the beginner and advanced user
Lifetime customer support
Free webinars on resilience, personal well-being and empowerment
One year limited warranty
Package Contents:
USB module and pulse sensor
Owner's Manual
Practice Plan
emWave Pro System Requirements:
Mac
OS X v 10.13 High Sierra or newer
Some features may not be available on older operating systems
Recommend Core2 Duo at 1.8GHz or faster processor
One available USB Port
Internet connectivity required for HeartCloud access and Software Updates
PC
Windows 8 or newer Operating System
Some features may not be available on older operating systems
2.0 GHz or faster processor
1 GB RAM —recommended 2GB or more
One available USB Port
Internet connectivity required for HeartCloud access and Software Updates