NEW! Building Personal Resilience™ Certification with Stress Assessment Training
For Mentors, Coaches, Counselors, Consultants, Peer Support & More
Would you like to help others reduce their stress and improve their relationships, performance, fulfillment and well-being? If so, this training is especially designed for you.
Two Courses in One Bundle
The all-inclusive HeartMath Mentor Certification/Coaching Enrichment Bundle includes the Building Personal Resilience™ Certification along with the Stress and Well-Being Assessment Provider Program. You will also receive the Inner Balance™ Coherence Sensor and 110 assessments (60 with the program and an additional 50 to build your business).
| | | |
| --- | --- | --- |
| | Building Personal Resilience Certification | $1,495 |
| | Inner Balance Coherence Sensor and App | Included |
| | Stress and Well-Being Assessment Provider Program | $495 |
| | License for 50 Additional Assessments | $245 |
| | Total Value | $2,235 |
| | Special Introductory Offer Price | $1,495 |
| | Total Savings | $740 |
The two courses, while taken separately, join together to help you create a supportive and energetic bond with your clients.
Course 1: Building Personal Resilience Mentor Certification
In the course, you learn and become certified to use the HeartMath skill set of science, training, methods and techniques, and to teach HeartMath's scientifically validated tools in one-on-one or small group settings. You will learn best practices to support your clients in identifying goals, expanding their awareness of stress as a source of energy drains, and transforming stress into renewing energy and resilience.
This course uses a blended learning-style format that includes eight hours of recorded, self-paced classes, eight hours of live experiential classes, and eight hours of practice mentoring with two clients of your choice.
HeartMath's evidence-based tools and techniques are designed to work in alignment with and facilitate other practices you use to help clients reach their desired results. The 8-week course includes both self-paced and live session learning.
Certification Program Overview
As a HeartMath Certified Mentor, you will be able to provide all or any part of the Building Personal Resilience skill set to those you mentor or coach, based on their particular needs. Certification allows you to work one-on-one with individuals or small groups under 10 people anywhere in the world.
The mentoring methods you will learn and the topics and skills you will teach incorporate many years of research and best practices developed from working with diverse populations worldwide.
Many clients report an increased sense of self-security, calm and composure, along with greater intuitive capacities and more discernment in decision-making. Others report experiencing a deeper connection with "who they really are" along with more energy to invest in the things that matter most to them.
Course Faculty:
Tricia Hoffman, Sarah Moor, Deborah Rozman, Rollin McCraty, and Howard Martin.
The course's blended learning format includes:
Eight hours of self-paced recordings with each weekly 1-hour section presented in four to seven topic-specific modules.
Eight hours of live class interaction and discussion.
Eight hours of mentoring practice with two volunteers of your choice.
A class member to practice telementoring.
Developing or deepening your personal practice of the heart-based skill set (included at no charge is the Inner Balance App and Sensor.)
Click to View Mentor Certification Course Dates
Your Mentor Certification Includes:
A license that allows for the commercial use of HeartMath's intellectual property so you can promote yourself as a HeartMath Certified Mentor.
Continued learning and collaboration opportunities including a Facebook Group for Certified Professionals, Learning Center, account executive support, and connection via a monthly Certified Professionals Connected Community call and a quarterly Rise of the Human Spirit Certified Community call.
A 25% discount on all products in our store for your first year, based on the purchase date of the certification program.
A special introductory invitation to join the Certified Professionals Community of Practice, a robust offering to interact, collaborate, co-create, and grow with other HeartMath Certified Professionals for $29.50 (a 90% discount for your first year.)
Course Outline by Class
Class 1: Overview and Resilience Model
Explore an expanded understanding of resilience. Learn a basic and very effective technique that helps build your resilience and begin to experience the positive impact greater resilience has in making meaningful changes in your daily life.
Class 2: Coherence and the Physiology of Resilience
Discover an important physiological state called "heart coherence" which underlies resilience. We'll introduce an effective tool that relates your everyday experience to your physiology and that encourages making empowered choices. It also illustrates that relaxation and coherence are not necessarily the same thing. You'll also learn another coherence technique.
Class 3: Resetting Neural Patterns and Shifting Attitudes
Learn the role of neural patterns and how they are formed. Discover how to reset ingrained, unwanted patterns or habits through a process of entraining heart-brain coherence and replacing them with new, healthier ones. Learn that lasting change starts in the heart.
Class 4: Working with Others
Learn to use the Building Personal Resilience transformational process and how to incorporate it into your work with others. This module also includes best practices and tips for integrating the HeartMath system into your client sessions.
Class 5: Coherence Technology and Working with Others
Coherence technology provides real-time feedback as you practice the coherence-building techniques. Coherence feedback helps enhance focus and promotes self-regulation, while motivating people to establish a consistent practice.
Class 6: Intuition and Heart Intelligence
Experience the heart as a source of intelligence that acts as an inner prompter for moment-to-moment intuitive guidance, making heart intelligence a practical part of daily life. We'll introduce a technique to activate your heart's intuitive intelligence.
Class 7: Increasing Resonance and Coherent Communication
Explore the energetics of communication and the fascinating science of how we can affect one another energetically. Discover the undercurrents of inner drama and how that can affect not only our communication but our resilience and everyday fulfillment.
Class 8: Leveraging Heart Intelligence
Review the progress you have made, reinforce positive changes and focus on the importance of establishing a new baseline for lasting change. We'll introduce an effective technique to plan your next steps by drawing from all you've learned.
Course 2: Stress and Well-Being Assessment Provider Program
Using the Stress and Well-Being Assessment with your clients noticeably increases rapport, vulnerability and honesty in your sessions. This easily administered assessment helps you and your client quickly become aware of and focus on those areas which either deplete or renew their mental, emotional or physical energy.
The initial assessment establishes a quantifiable stress, resilience and well-being baseline from which to measure forward progress toward agreed upon goals.
This self-paced program includes live monthly Q&A/Best Practices sessions to help you integrate the assessment into your client mentoring and coaching practice.
Providers Explain the Power of the Program
The Five Parts of the Provider Program
Stress and Well-Being Assessment: The fully normed and validated Stress and Well-Being Assessment was originally developed at the HeartMath Institute Research Center for use as the stress and well-being component of a health risk assessment for a large hospital system. The assessment has now been used by tens of thousands of English reading people around the world.
Self-Paced Video Course: Six modules, about 30 minutes each, provide in-depth instruction and best practices for administering, viewing, interpreting and sharing results with your clients.
Ongoing LIVE Support and Best Practice Sessions: Join any of the monthly sessions for Q&A and best practices being used by successful providers.
Stress and Well-Being Assessment Provider Dashboard: Unlimited access to easily track, invite, view and compare your clients' results to normative data and their previous assessment results.
License for 110 Free Assessments: Includes 10 assessments to use with friends and family during your learning cycle and 100 assessments upon successful completion of the course. At any time, you can purchase an additional license to add 50 uses of the assessment to your Provider Dashboard. The cost is $245.
One Provider's Experience — We Couldn't Have Stated It Better
"The Stress and Well-Being Assessment (SWBA) is such a valuable tool to properly start a coaching or training client relationship. It provides real-time insights into where the client is experiencing stress in their lives and at what levels. It also provides insight into their emotional well-being.
I use this tool with every client, one before starting coaching and another at completion of the Building Personal Resilience program or six weeks into coaching to show a before and after. Then you can continue to use it quarterly or whenever one is needed.
Tracking progress with the SWBA is a great way to show your clients the progress they are making and where there is still work to be done. It has a very positive impact on my clients."
— Jen, Los Angeles, California
Quickly Gain an Overview of Your Clients' Results
While the assessment is not a diagnostic tool, the conversation that follows with one's clients has been described as "fast-tracking to meaningful and purposeful conversation."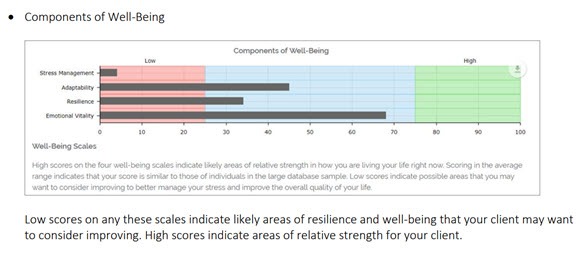 Key Benefits Providers are Experiencing
Immediately increases your clients' awareness of areas that are either depleting or renewing their energy
Increases the level of vulnerability and honesty between you and your client and expands the opportunity to establish longer-term client relationships
Gives a flexible structure to help your client overcome areas of stress and increase well-being and resilience
Simplifies how you evaluate and quantify your clients' progress in achieving their goals
Helps in building a roadmap with your client for ongoing transformation
Helps to set achievable goals and focus the use of the HeartMath skill set or other effective approaches
Helps clients see and feel that progress is real
The Fine Print
Successful completion of the Stress and Well-Being Assessment (SWBA) Provider Program conveys the right to advertise yourself as a HeartMath® Stress and Well-Being Assessment Provider.
The course enrollment fee includes a license to administer the assessment 50 times, plus 10 assessments to use with friends and family during your learning cycle.
The license provides the right for you to charge your clients for taking the assessment.
An additional license for 50 assessments is being provided at no charge. You will receive an email with instructions upon successful completion of the SWBA Provider course.
At any time, you can purchase an additional license to add 50 uses of the assessment to your Provider Dashboard. The cost is $245.
| | | |
| --- | --- | --- |
| | Building Personal Resilience Certification | $1,495 |
| | Inner Balance Coherence Sensor and App | Included |
| | Stress and Well-Being Assessment Provider Program | $495 |
| | License for 50 Additional Assessments | $245 |
| | Total Value | $2,235 |
| | Special Introductory Offer Price | $1,495 |
| | Total Savings | $740 |
Note: Contact representatives in your country about the certifications available by referring to our Global Alliances page at this link: https://www.heartmath.com/global-alliances/. (We do not offer this course directly to residents of the following countries: Australia, Austria, Belgium, Germany, Luxemburg, Netherlands, South Africa, Switzerland.)